Our mission is to advance fashion education through diversity and access, and by championing inclusion for lifelong learning in digital fashion. We aim to educate, provide, and promote digital fashion talent who will influence digital transformation in the fashion industry and society, for the good of society. Our education is global, inclusive, flexible, on-line, and hands-on. For us diversity and inclusion are fundamental in the creation of an inspiring education and being different is how we drive innovation forwards. Our innovative digital content is intended to empower fashion professionals to become change agents by embracing new technologies to enhance their creative and business practices. The Digital Fashion Group Academy specialises in developing and delivering innovative digital content to support our approach to lifelong learning by working across the fashion value chain through a range of formats:
Digital Fashion Courses + Contemporary Creativity
Our top priority is to boost your creativity. We cover a wide range of artistic forms and expressions, both in a practical and theoretical level, while building for our learners a solid theoretical background in Art History.
Digital Professors
International teachers with extensive industry and academic experience
Instructive Workshops
Skills-baed workshops explore the relationship between tools and creativity.
Peer to Peer learning
Community based learning brings together everyone taking part in our courses.
Industry Collaborations
Our courses are built in collaboration with the key digital players in the fashion industry.
Digital Library
For the first 30 student enrolled on a course gain access to the online Perlego digital library.
Video Engagement
Courses are based on high quality video lectures and interviews. Quizzes and interaction use our VideoAsk system.
Our collaborations & partnerships
To offer top quality training and digital certifications, we believe it's key
to partner with the best in industry across business and education sectors.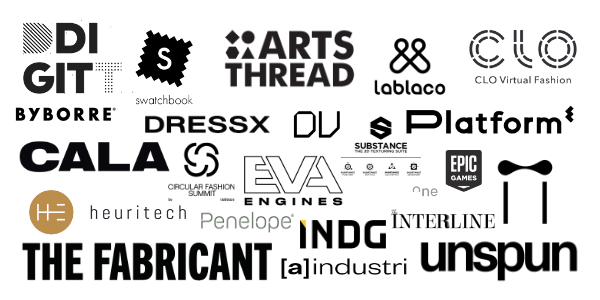 Meet the Cofounders of The Digital Fashion Group
A graduate of the Royal College of Art, London with extensive international academic and industry experience .
Leslie holden
A graduate of St. Martin's School of Art, London, with extensive international academic and industry experience.
Sean Chiles
our international team
Meet our Digital Professors
Dr.
Lívia Pinent – Digital Professor of Research
Anthropologist (MA) - Communications (PhD)
Livia is the founder of Fashion Culture Innovation Bureau. She develops applied research focused on culture, trends, and consumption in the fields of fashion, creativity and innovation.
Through qualitative research and an ethnographic approach, Lívia researches and analyses cultural practices, finding trends and insights to explain how people consume, understand and interact with clothing and fashion in the contemporary scenario.
Lívia teaches digital research and a fresh approach to academic methodology for the future of fashion education.
isn't it time for you to drive fashion into the future?
Explore our Digital Fashion Courses now!