Our
3DESIGN:The Fundamentals of Digital Fashion
Course is now available by individual unit
3DESIGN:
The Challenge!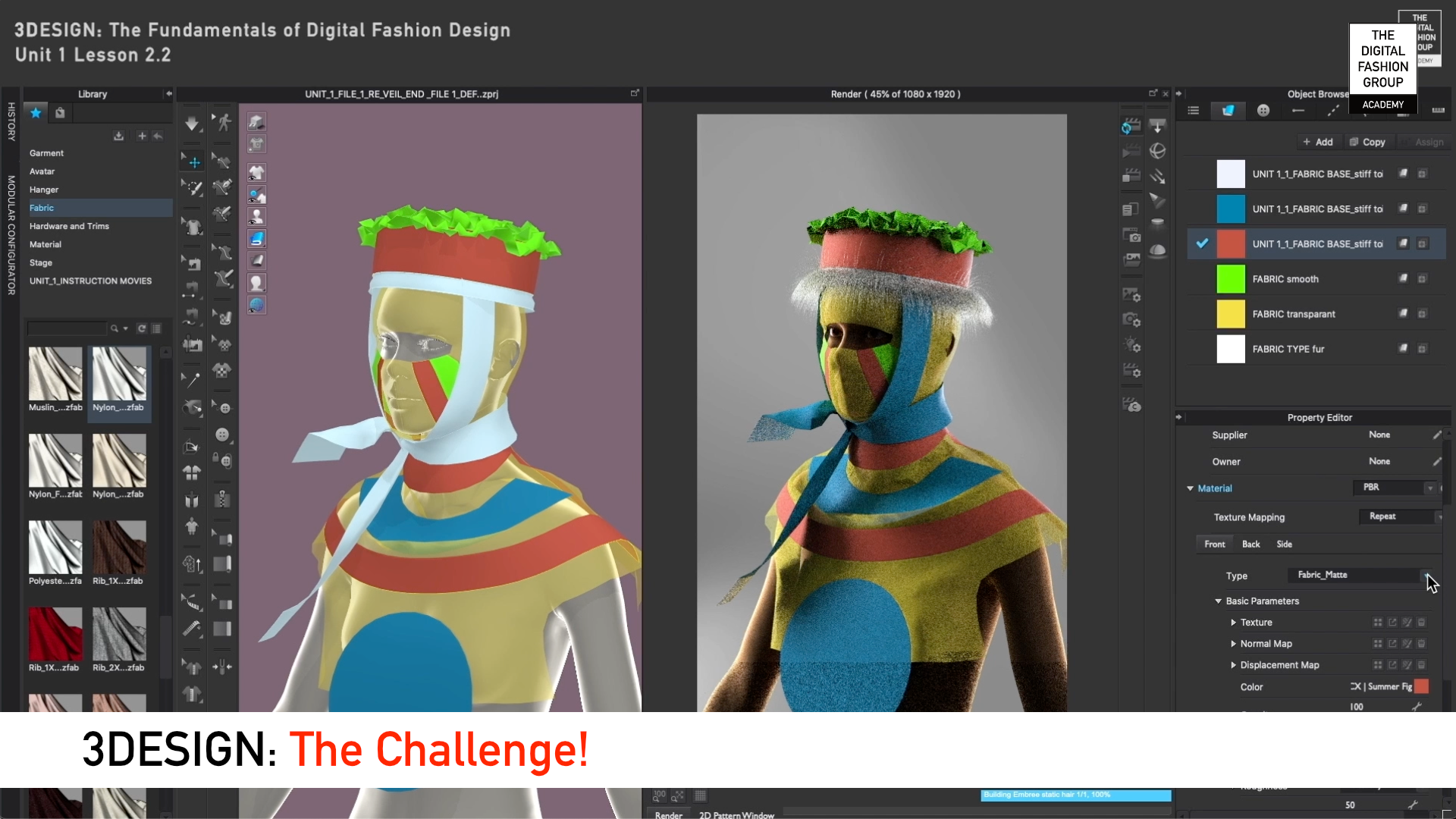 3D virtual fashion design is a key driver for the digital transformation of the fashion industry and is impacting all areas of design, product development, manufacture and retail.

This is the FIRST UNIT in our 6 Unit "3DESIGN: The Fundamentals of Digital Fashion Design" specialism that teaches the digital design skills needed to stimulate creative thinking for your career in fashion and to make sure you are ready for the most important changes occurring in the fashion industry,

Our real time, step-by-step instruction method, delivered by our 3D design experts helps you understand how to apply digital to your fashion design practice while gaining powerful insights into the latest software.

We teach with CLO3D and other interfacing software. You should be able to complete this course using the one month free trail of CLO3D available via the CLO website.

Please note that feedback on assignments is NOT given for this course (only on the full 6 Unit course).

Start Date & Number of Places
Enrolment on payment
Unlimited places
Course Format
Asynchronous
Online Course
Duration & Workload
1 Unit/12 hours
Can complete in 2 weeks
Primary Software
CLO3D interfacing with
Illustrator & Photoshop
Course Available to you for
1 month
From enrolment
Single Unit Price
€240 + taxes

What you are going to experience
3DESIGN: The Challenge!
This course kickstarts your development in the 3D design world, and challenges you to create digital assets using CLO3D software.
This course will guide you to learn and experiment with CLO3D software used for digital fashion design. As you learn and will begin to identify your place in the digital and phygital fashion worlds by:
Developing CLO3D skills
Understanding the digital fashion mindset
Researching contemporary design
Identifying your place in the digital and phygital world of fashion

Designing within the digital sphere
Frequently asked questions
Who should take this course
The person that this course should appeal to
Individuals seeking to become digital fashion designers

Fashion design professionals wanting a different viewpoint on 3D virtual prototyping and who would like to apply more fashion emphasis

Fashion Students or professionals seeking professional development
What this course provides
The content and materials you will receive while taking this course
Exclusive lesson content of video instruction by our Digital Professors Ineke Siersema and Zil Vostalova (Gizmo.lab), quizzes, assignments, and industry insights


Comprehensive study materials arranged as eBooks with access to download files required for development and experimentation.

Some of the knowledge and skills you will gain by taking this course
The digital mindset required for embracing digital fashion development

Using CLO3D in combination with other software to develop and create fashion designs

Software interfacing between various creative software programmes
The study methods involved in taking this course
Video lectures and video guidance for using CLO3D software

Self-directed research and experimentation based on learning materials provided

Directed Assignments to implement your learning
What you need to study on this course
The key equipment and services you need to be able to access and study on this course
CLO3D software licence (a 30 day trial is available from CLO)

A sufficiently powerful computer and a 3 button mouse

A fast internet connection with unlimited data transfer
Introduction
The kick-off with lesson structure and overview
The Digital Professors introduce themselves and provide material to outline the equipment you need for the lessons, how to navigate the course, and the course learning outcomes.
3DESIGN: The Challenge!
The challenge to create your first digital fashion asset
This course is informative, motivational, and playful with a CLO3D working method introduction leading to the challenge of creating your first digital fashion assets.
conclusion
Concluding the course and obtaining your certificate
If you have successfully completed all learning activities you will be able to access and download your certificate.
The Digital Fashion Group Academy reviews so far...
"The Digital Fashion Group Academy is the best learning platform I found so far. I was really surprised with the possibilities."
Shannon Sim
Fashion Courses Leader LASALLE College of Arts, Singapore
"I loved the interactiveness, I met a lot of new friends on here and loved being able to interact with them and connect further. "
Jye Marshall
Digital Designer, Melbourne, Australia
"This course (Digital Fashion 101) inspired me to launch my first capsule collection."
Giancarlo Pazzanese
Design Lecturer, Amsterdam, The Netherlands
"I love the engagement and the ability to interact with other students from diverse cultures."
Anthony Ibegbulem
Digital Fashion Designer, Nigeria